When you start your own business, there are a lot of costs. From specialized equipment to office space, business cards to marketing, even a home-based business has some startup costs. If your savings account is looking a little bleak and your friends and family are not ready to invest in your idea, don't panic! There are several ways to find the money you need to start your own business.
Start Your Own Business with a Government Grant, Loan or Financing
The government of Canada encourages small businesses because they are good for the economy. By going to the Government of Canada website and selecting your province, you gain access to the grants, loans, and financing options in your area.
A few questions are required on the site to direct you to the best funding options for your proposed small business, and thanks to an interactive form, this input is easy to manage.
This screen shot shows a mock-up of the input fields, and what you will be required to answer about starting your own business.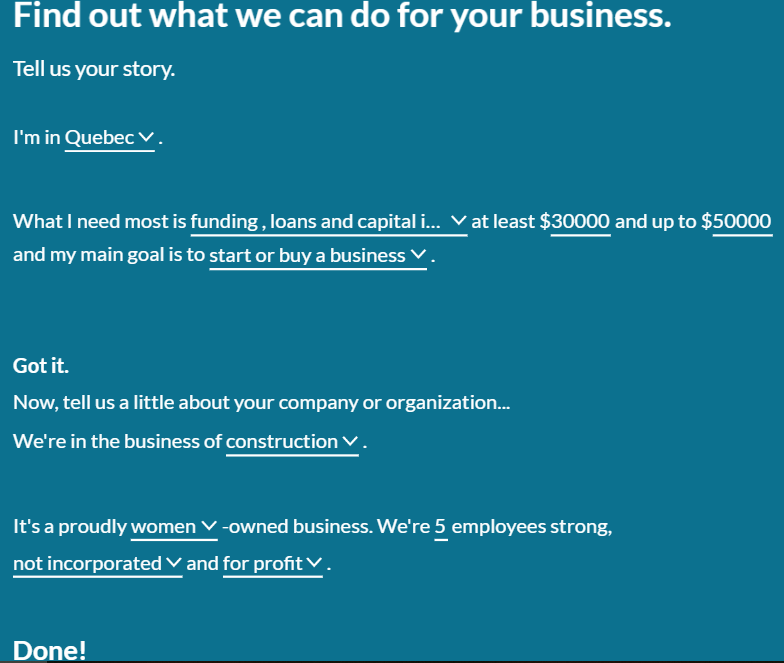 Once your input is in and you hit "done," your funding matches pop up. This same site also has access to non-funding advice and tools to help you start your own business.
Start Your Own Business with Private Financing
The website also has information on where to find private financing, along with a detailed description on what each type of private funding entails. There are many different options: debt financing is a loan that must be paid back with interest, microcredit is a small collateral-free loan for very small businesses, supplier credit helps you get the supplies you need without cash upfront, and angel investors are wealthy patrons that seek out small businesses in which to invest.
Start Your Own Business with Wage Subsides and Interns
Any successful business will tell you that people are their greatest resource – but how do new small businesses hire the talent they need? The Government of Canada helps some initiatives with wage and training subsidies for staff and interns. Some tax credits are also available for hiring apprentices, or for companies in the film and video production industry.
Where to Learn More
These are just a few of the many different options you have when looking for money to start your own business. To learn more, visit the business grants and financing page of the Government of Canada's website.
Getting the money to start your own business is just half of the challenge. Once your business is underway, you need to focus on expenses, costs, payroll, taxes and all the other finanical details that will make your business successful. You don't have to go it alone. AF Accounting is dedicated to helping small businesses with their accounting needs. Our varied services include full accounting on an ongoing basis, or one-time help/advice. We also provide Virtual CFO services, aid in tax preparation, help with budgeting, and so much more. Contact us today to get started.
Did you know that a bookkeeper and an accountant perform two very different services? Read all about it on our blog.